Our People (Organic Vermicompost Fanatics)
Brothers Kris & Hardy Sawall Relish the Rich Rewards of Vermiculture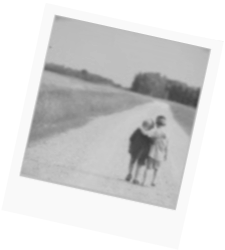 Kris and Hardy Sawall are two brothers who like to get their hands dirty. Good thing, because their hands get plenty dirty caring for several hundred thousand worms and harvesting tons of worm castings every day.
Kris and Hardy got their start in farming at a young age, helping their grandfather on his farm in eastern Wisconsin. It was there they learned about hard work, good soil and organic vegetables. Opa (grandpa in German) believed that man was meant to work the soil, and had an amazing garden which fed the extended family, all without the use of chemical fertilizers. He was a man ahead of his time!
The lessons learned on that farm stuck, and Dirt Dynasty is an extension of those childhood experiences. Now, Kris has his own 13 acre farm to tend to, but instead of raising cattle he raises a herd of 160,000+ worms! There are worms to feed, bins to circulate, orders to fill and a heck of a lot of worm poop to harvest.
At the end of the day, though, with a huge pile of beautiful, deep brown worm castings beckoning them to lovingly sift it back and forth in their hands, one thing is certain: It was clearly worth all the effort.
Dirt Dynasty Vermicast: Pure Plant Superfood
Gardeners, fruit growers, marijuana growers, small farmers – they're all feeling the love of Kris and Hardy's vermiculture. They appreciate our 100% organic fertilizer, our prompt, friendly service, and our can-do approach to shipping tons of worm castings.
If you're looking to turn your world green, we've got just what you need – from 20 lb packages to fertilizer bulk shipping by the ton. And if you're taking all this with a grain of salt, maybe still a little unsure, we also offer 1-lb trial packages at some of the local farmer's markets. It's more than enough to tell the difference with a few potted plants. Do a little experiment, compare different plants with and without the Dirt Dynasty stuff. The extra growth will be plain and obvious.
At Dirt Dynasty, we're all about exceeding expectations, whether it's with our 99% pure organic worm castings or our super service. Try us and see.