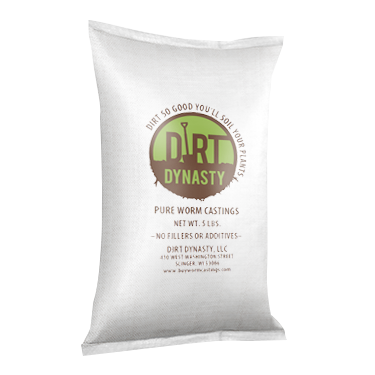 Dirt Dynasty
Pure Worm Castings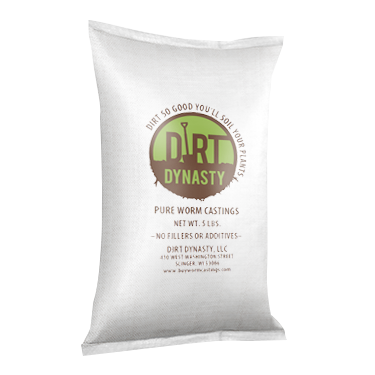 Vermicast Super Sack!
1 Ton Bulk Ordering Info
Order a literal crap ton.
Promo! Buy 2 or more 20 pound bags,
we'll throw in a 5 pound bag for free.
The Extra Cost Is Like a Wolf in Ship's Clothing
UPS'ing vermicast fertilizer is a little pricey. You can see the cost hike when you add worm castings to your cart. So avoid the high shipping costs by picking up farm direct.
Pick Up DD Worm Dirt Locally
Shipping no longer has to cost a shipload! Pick it up locally to sidestep UPS completely. We're currently working with several local Wisconsin retailers and nurseries to provide more and more local vermicast pickup throughout Milwaukee and Madison. If you're near either city, don't mail order anything more than a sample. Drive to Slinger instead!
Call (414) 531-1718 and we'll let you know where to go.
Try it, love it, and then get your butt over to one of our vermicast pickup sites. Your wallet will thank you.
Contact worm dudes
to cut shipping costs
Dirt Cheap Dirt!
ATTENTION WISCONSINITES!
Local Pickup to Avoid Shipping:
Dirt Dynasty is currently building relationships with Wisconsin gardening centers and will be providing local pickup at select locations in the Milwaukee area.
Now available for pickup at these locations.
Call (414) 531-1718 for more info.
Or check out our worm castings shipping page.
20lbs. of Worm Castings - Perfect for:
Fertilizing a typical residential garden vegetable plot
A worm castings tea party - about 40 gallons
Feeding all the beautiful flowers you swear you'll plant all around the side of the house come spring, for real
Testing it on part of your farm before buying in bulk
Fertilizing a small greenhouse full of stuff
A gift for someone you love the crap out of
| | |
| --- | --- |
| Worm Feedstock: Mixed Grains | Sifted: 1/8th inch screen |
Pure Worm Castings Fertilizer - Why it's the Sh*t
Organic, Nutrient-Rich Vermicast Plant Food
Worm castings from Dirt Dynasty are the only 100% organic, meticulously tested vermicast fertilizer you'll find. We use it on our own gardens with great success, and everyone we talk to has the same excellent results - faster growth, resistance to disease, and even better tasting vegetables.
Aside from providing your plants with mandatory nitrogen, phosphorus and potassium, Dirt Dynasty's worm castings fertilizer also boasts more nutritious elements than a bowl of Wheaties: iron, calcium, sulfur, magnesium, copper, boron, manganese and zinc (we could easily keep going).
A single cubic inch of worm manure has over 1 billion bacteria. What you want are for every 1 billion of those bacteria to be 100% all-natural and (more importantly) aerobic - safe for plants and the people around them.
Buy a bag of worm castings today and test it on your plants. See how much taller your plants get, how much better your vegetables taste, and how much faster they spring up and grow.
Vermicast Direct Pick-Up Location in Wisconsin - Don't Pay for Shipping!
Farm direct pick up
Dirt Dynasty
410 W.Washington Street
Slinger, WI 53086
*PLEASE CALL AHEAD WHEN PICKING UP LOCALLY: (414) 531-1718
Farm Hours
Mon-Fri: 12pm - 7pm
Sat: 9am - 6pm
Sun: By Appointment
NOW SOLD AT THESE RETAIL LOCATIONS IN THE GREATER MILWAUKEE AREA