Out-of-State Shipping Orders
The REAL Deal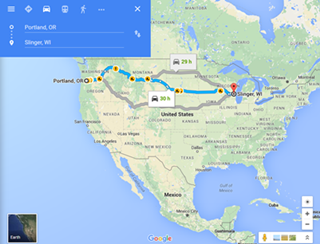 Here's the deal: shipping 1 ton of our worm dirt is so ridiculously expensive that many buyers don't bother (we're talking about $1,000 just to ship a single ton). HOWEVER, if you really want to order some and can pool together a 20-ton order (the trucker who delivers for us can haul roughly 22 tons), you're only looking at about $200 per ton in shipping costs. At the direct rate our delivery guy offers, that's what your total will amount to. Also, keep in mind no one from Dirt Dynasty is profiting a dime off of the shipping charges.
Let's Get Down & Dirty (i.e. Hypothetical)
Hypothetically, let's pretend you purchase 1 ton as part of a group sale with other nearby farmers in the Oregon region. That's about a 2,200 mile trek our trucker has to make. Let's say this 1-ton super-saving shipment costs $400 for the fertilizer itself. The shipping price is then another $200. You are paying a grand total of less than $600 for 2,000 lbs delivered on the other end of our nation. Even WITH shipping, this ultimately equals 30 cents per lb, beating our original wholesale price of farm direct pickup, which is 50 cents per lb. That's a 40% discount.
Despite our infinitely cool website, Dirt Dynasty isn't a major corporation. Truth is, we're just a small Wisconsin family business cranking out the highest quality fertilizer imaginable. So yes, we're fighting for the fellow little guy, because we're all in this together. If you'd like to be part of this collaborative effort, contact Dirt Dynasty so we can help you coordinate with each other and keep a list of interested parties for any future collaborative efforts.
In Closing…
Basically, what it comes down to is, if you REALLY want Dirt Dynasty's 100% worm castings delivered to your state, we'll find a way to get it to you at as inexpensive a rate as possible.
For a more in-depth discussion about shipping the goods to your state, give me a call ASAP: (414) 531-1718