Maine Benefits from Worm Castings Soil Blend
Back
Vegetarians and Vegans Share Worm Byproducts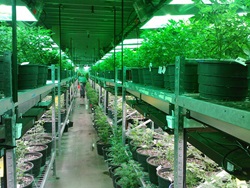 Portland, Maine is a city on the East Coast harboring freight and cargo ships as well as progressive attitudes. Many people in the region embrace organic foods and lifestyles. With the niche markets growing, farmers need more fertile, chemical-free soil to grow their products in.
Organic worm castings fertilizer can't be beat as far as creating the optimal place for seeds to grow and develop. Gardens and farms have a yield of between 20-55 percent more crop when vermicompost is added to the soil, easily enough to meet increasing market demands for healthier and more environmentally friendly food products.
Portland, Maine Legalizes Marijuana for the Adult Masses
Nearly forty years after Peter Tosh cemented the idea in pop culture, South Portland decided to give it a shot. November 5, 2013 and November 4, 2014 were historic dates for the cities of Portland and South Portland, ME, respectively, legalizing recreational use of marijuana for adults.
Maine has had legal medical marijuana since 1999. Combined with legalized recreational use of pot, Portland, ME has a flourishing culture of responsible marijuana users searching for ways to harvest the best, cleanest, and most environmentally friendly crop of pot they possibly can.
Good News for Garden Growers
Dirt Dynasty provides the vermicompost amateur and professional botanists crave. Our product is chemical-free worm casting fertilizer, which retains water longer than other fertilizers.
Worm castings products are time-release fertilizers, slowly feeding your plants the nutrients they need. Manmade synthetics deliver high doses of nutrients in a short period of time before getting washed out of the soil.
Think logically, Portland farmers. Which one would you rather have in your own home? Now is the time to act. Go organic. Your customers will love you for it.
For the rest of Maine's botanists, be ready. Your time is near.
Contact our vermiculture experts for a free quote on worm castings by the cubic yard to have happier, healthier customers in as little as one harvest!
Back